Modular Grated Trench Drains
ACO Drain® systems consist of factory manufactured modular channel units made from corrosion resistant Polycrete® channels, together with grates from a variety of materials for all loading applications.
ACO Drain® systems are available in 50mm, 100mm, 200mm and 300mm internal widths, and are available with a built-in slope for up to 40 metres of continuous slope.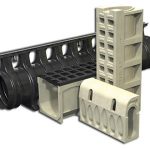 ACO also offers a dedicated range of trench drains for transport infrastructure projects i.e. roads & highways; rail, bus, truck stops, bridges & tunnels, seaports and container terminals.
For more info, click here.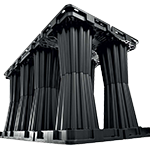 Once trench drains have collected water, it can be detained, infiltrated or stored for reuse with ACO StormBrixx® is a unique and patented plastic geocellular stormwater management system designed for all construction environments.
For more info, click here.